London to Cape Town
24 October - 1 December 1998

London to Cape Town was one of the world's most exciting motoring adventures - a unique combination of a competitive challenge and the sightseeing trip of a lifetime.
Over six weeks the participants faced conditions ranging from eastern European mountain passes to tropical forest and desert, and visited some of the world's most beautiful and dramatic places.
London to Cape Town was two events in one.
The Classic Reliability Trial was a competitive event for all kinds of classic and historic cars made before 1978, from vintage Bentleys to Volvo Amazons. There were different age categories, from Vintage through to the Seventies. These were split into classes based on body type and engine size.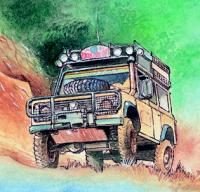 The 4x4 Adventure Drive was an event for modern 4 x 4 vehicles. It was not a competition, and there was no need to manhandle 4-wheel drives through swamps. The core route was straightforward (albeit often spectacular), but each day participants were free to choose their own side trips, on or off road.
Each of these was a serious and exacting challenge through demanding terrain and conditions.
The route took participants through the mountains of eastern Europe and Turkey, past Crusader castles in Syria, along Jordan's fabled King's Highway, across the Ethiopian Highlands, close to Mount Kenya and Kilimanjaro, over the Victoria Falls, and through some of the most breathtaking scenery you've ever seen.
Participants covered between 250 and 750 miles a day. Those that got to the end, had an enormous sense of achievement and fulfilment, and will never forget their Drive of a Lifetime

---